About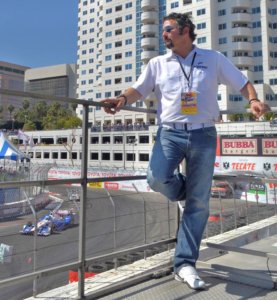 Art Form Auto was inspired by my passion for vehicles of all kinds. It started when I was 7 years old with a mid-summer ride in a 1967 Pontiac GTO Convertible. This proved to be the "bug that bit me". The GTO was a fabulous example in beautiful condition and since it was bright red with a white interior, it reminded me of the highly polished fire trucks that I loved since my earliest of memories as a toddler.
Oddly enough, my parents do not have the same passion so I grew up being exposed to the very mundane, very low quality cars that were being produced by the U.S. automakers from the mid-seventies to the early nineties. My Mother has always wondered where I got these feelings for cars and driving them. I always have to remind her that she is responsible since she put me behind a toy steering wheel that was attached to my car seat as a baby. So, in my mind, I've been "driving" before I could even walk!
It didn't take long for my interest to grow into a large collection of model cars, dozens of automotive books, magazines, art, and posters covering every square foot of my bedroom as I grew up in Chicago's South Suburbs. After graduating from High School, and attempting College for a couple years, I spent 7 years working on the trading floors of Chicago's Financial Markets. I then finally followed my dream and moved to Phoenix, Arizona so I could work in the specialty car industry.
The purpose of this website is to share with other enthusiasts the thousands of photographs and writings I've done over the last 10 years while being heavily involved in, and employed by, the specialty, vintage, exotic, and collectible car hobby. The car culture and the people who love it are, in my opinion, some of the coolest people on the planet. I found that even when dealing with high-profile CEO's, Rock Stars, Race Car Drivers, and Professional Athletes, the car was always the common denominator and the conversation was always a good one.
I have since moved on from the world of selling specialty vehicles and have been expanding my knowledge on the history of automotive design and engineering. With Art Form Auto being my new outlet for this passion, I will continue to attend, and document on this site, any Automotive related event of interest in order to satisfy my unquenchable thirst for specialty cars.